The Compleat Thanography part 2: Nourishing Soup
The dunking continues, as we sort each other into necromantic houses and then cancel the 8th House by unanimous consent. Again, this is not a normal Discography episode.
3 years ago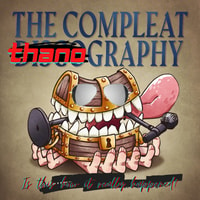 Time for some loving dunking of each other and then some less-loving dunking on certain religious zealots and houses reliant on child soldiers. Also, as we are talking and swearing about books about lesbian space necromancers, if body horror ain't your thing, go read read Moving Pictures and wait for the next episode.
Alyson Grauer can be found at @dreamstobecome and is an actor, author of SF, F, and speculative fiction, a dialect coach available for hire, a podcaster and voice actor (June Hymnal on the all-ages fantasy podcast Skyjacks: Courier's Call and Aaron's daughter's favorite), and the 'Whimsy' of Whimsy & Artifice, creators of Warda and the Patreon exclusive "Worldforging" podcast.
Jude Vais can be found at @eremiticjude and is the cohost of Athrabeth and Garbage of the Five Rings. He is also one of Aaron's oldest friends. Mythgard Institute/Signum University
Music:
The Hive by Kevin MacLeod
Link: https://incompetech.filmmusic.io/song/4495-the-hive
License: http://creativecommons.org/licenses/by/4.0/