S1E16 - Men at Arms
We are joined by Sharang Biswas, game designer/creative writer/Magpie GM/awesome friend, as we discuss the second Guards novel in the series.
2 years ago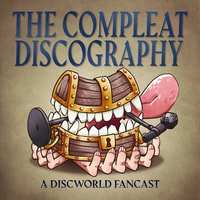 We return to the rank (no file, yet) of the elite guardians of the evening, the City Watch (night). Per Vetinari's orders, they are taking on additional recruits to diversify the face of the modern watch, including a troll (Detritus, previously appearing in Moving Pictures), a dwarf (Cuddy), and a w... (Angua--if you know, you know). In a meditation on firearms, the role and purpose of police in a modern society, and what it really means to be a man (or w...) of the city, Terry takes us over towers and under sewers in a fast paced chase for the truth. And truth can be hard to come by in Ankh-Morpork when there are so many easy lies instead.
Our guest, Sharang Biswas, can be found at @SharangBiswas or at his web site.
Check us out on twitter at @atuin_pod
Follow individual hosts at @urizenxvii, @The_Miannai, and @Justenwrites
We can also be found at www.compleatdiscography.page
Our art is by the indomitable Jess who can be found at @angryartist113
Music is by Incompetech and used under a Creative Commons 4.0 Attribution license.
Take a Chance by Kevin MacLeod
Link: https://incompetech.filmmusic.io/song/4457-take-a-chance
Fuzzball Parade by Kevin MacLeod
Link: https://incompetech.filmmusic.io/song/5044-fuzzball-parade