S1E12 - Reaper Man
We return to our good friend Death, who is told by our new favorite antagonists the Auditors that his services are no longer required, as he has become too close to those humans with all their chaotic emotions. With a spectacular b-plot from the wizards and a lot of complex emotions and meditations on death, life, and all the space in between, this is a good book.
3 years ago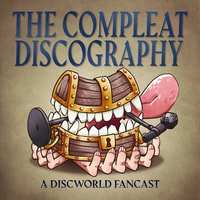 Death has developed a personality, and to the auditors of reality, this is a problem. Forced into retirement, he finds himself, along with his trusty steed Binky, wandering into a small farming village. There, he is hired as a farmhand by an older lady living alone by the name of Miss Flitworth and takes on the name Bill Door. Romance, chaos, a fight with a farm implement, and a parasitic mall ensue.
Check us out on twitter at @atuin_pod
Follow individual hosts at @urizenxvii, @The_Miannai, @mynaminnarr, and @Justenwrites
We can also be found at www.compleatdiscography.page
Our art is by the indomitable Jess who can be found at @angryartist113
Music is by Incompetech and used under a Creative Commons 4.0 Attribution license.
Take a Chance by Kevin MacLeod
Link: https://incompetech.filmmusic.io/song/4457-take-a-chance
Fuzzball Parade by Kevin MacLeod
Link: https://incompetech.filmmusic.io/song/5044-fuzzball-parade