S1E8 - Pyramids
So this one's a challenge, because it's an okay book with some cool things pterry noodles with but GOSH is there a lot of British Egyptology. We brought in our good friend Amr to help us talk about exactly what was disappointing, and then apologize profusely as we discover this was their first Discworld book. Pros: Assassin's Guild is (mostly) good, there are some interesting explorations of myth and godhood. Cons: YIKES.
3 years ago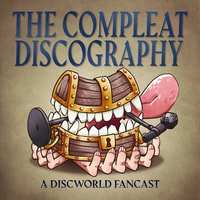 We're so happy to have had Amr as our first guest host... and so very sorry this was their first Discworld book. What was probably somewhat funny pop cultural references in 1990 turn out to be surprisingly offensive Orientalism in 2020. This may be one where we don't really recommend you read this, at least not early on in Discworld.
Amr Ammourazz (@ammourazz) is a game designer, podcaster, and all around nerd. You can hear them rambling about math on twitter, as a player on the Play/Test podcast, or find their game design on itch.io and a variety of other projects.
Check us out on twitter at @atuin_pod
Follow individual hosts at @urizenxvii, @The_Miannai, @mynaminnarr, and @JustenHunter
We can also be found at www.compleatdiscography.page
Our art is by the indomitable Jess who can be found at @angryartist113
Music is by Incompetech and used under a Creative Commons 4.0 Attribution license.